---
Editorial Cartoon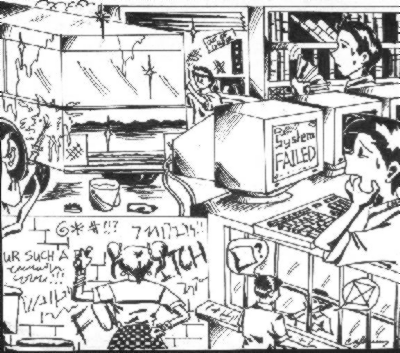 By Christina Doughman
---
EDITORIAL
Tough College Course Decisions

o matter how happy and giddy, terrible and sad highschool life is, soon enough, it will end with a knocking question: what course will I take for college?
It is so hard for a graduating student to decide what to take in college. The most popular problem is the involvement of the parents. Students always have dilemmas when their parents get so involve with their decision that it leaves them no choice but to follow it. Though that problem is commonly known, youngsters nowadays face the greater problem of a college decision: job opportunities. As everybody tells him to go what he wants to do with his life, same as they ask him what kind of living he would have. Young people are dictated by the cost of living. It seems as if in this changing world, demands of how to earn money for living increases that it affects a fourth year students decision. Take for example a student who wishes to take photography but is forced to take engineering because it is in demand and easily gets a job. It could be a personal or parental decision.
Another problem that arises is that some students still don't know what they want to have. They are confused and unfocused. To some, everything seems as if its just a stage. People would go to grade school, high school, college, get a job and settle down. Others are like driftwoods. It's either they don't really have anything in mind for the future or they don't really know what they want. Some students would want to have a break, some time off, perhaps a year to really search and find what they want. Unfortunately they pursue on, taking any course that they think (or other people does) suits for them. These students usually take courses that are popular, like accounting or engineering.
Still another is the somewhat obligation of the student to help his/her parents after studying. A young person may feel that she must support her parents first before her personal liking and so he/she takes a course that easily gets a job even if he/she would want to enter the seminary or the convent. It may seem illogical and ridiculous but its true.
No matter how people tell students to go for the courses they want, they always have these problems that burden their decisions. It is utterly hard for them to decide and with these, it just makes it harder. Not all graduates end up with what they want. Lucky indeed those who find themselves in their sought courses.



| Back on top |