---
In the Service of Man,
for the Glory of God
A Glimpse at the life of God's Faithful Servant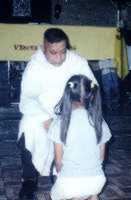 "There is a time for everything…a time to be born and a time to die…" - A quote from the Bible which each one of us will come to face, and some of our loved ones have already experienced, like our beloved Fr. Federico Dela Rosa, OAR.
A time to be born… The seventh day of May of nineteen hundred and thirty six- it was on this day that Fr. Federico dela Rosa got his first glimpse of our world. He was born to Adolfo Gustavo dela Rosa and Ana Pastor of Quiapo, Manila. Like all of the children in this world, he was a blessing to his parents, and also to many other people. It was on this special day that another child was added to the country's population, with people not knowing what he will do or what he will become when he grows up.
Year nineteen hundred and forty eight - the year when Fr. Federico walked up the stage of San Sebastian College, Manila, when he received his diploma, upon graduating from the primary level. It was also from this school that he graduated from secondary level in nineteen hundred and fifty two. Sensing his call for priesthood, he pursued his college education, taking up Philosophy in San Jose Seminary in Quezon City. He graduated here within four years, having a degree of AB Philosophy. He used this course as a jumping board to a Theology course. Many people may not know that he pressed on with his Theology course in Marcilla, Navarra, Spain.
On the sixth day of July, nineteen hundred and sixty obtained his simple profession in Monteagudo, Navarra, Spain. After a span of three years, he achieved his solemn profession in Marcilla, Navarra, Spain. He graduated from Theology after four years, in the year nineteen hundred and sixty four., and received his ordination as priest on the nineteenth day of July, nineteen hundred and sixty four, after graduating.
After studying abroad, he had an urge to return to his own country and practice priesthood there. In same year he was ordained priest, he returned to the Philippines and served as a Secretary to the Bishop in Palawan from nineteen hundred and sixty four until nineteen hundred and eighty eight. After serving in Palawan for twenty-four years, he headed towards San Sebastian College Recoletos de Cavite.
Due to his love for learning, he pursued graduate studies taking up Educational Management in St. Joseph College, Cavite. He graduated in nineteen hundred and ninety two, with a degree of MA Educational Management. He was already fifty-six years of age during this time, but his age did not hinder his zeal for searching for more knowledge. He continued his studies at the Center for Research and Communication in Pasig City and in the University of Asia and the Pacific, where he obtained and Licentiate in Economics and a Doctorate degree in Economics respectively, in nineteen hundred and ninety eight.
Simultaneous with his schooling was his faithful service to God through the Sebastinian Community and other communities where he was involved. Though he was studying, he was still capable of attending to the responsibilities given him for a span of twelve years. During this time, he became the College Vice-President, Dean of Academic Affairs, Dean of Theology, Campus Minister, School Chaplain, SEAP Secretary, Spiritual Director of GABAY Community, Spiritual Director of Cursillo (Calamba, Laguna) Retreat and Recollection Master, Medical & Dental Officer and ROTC Coordinator. He was not only a zealous student but also a responsible leader.
A time to die… After sixty-four years of untiring pursuit for learning and meaningful service to God and to the people, Fr. Federico Dela Rosa died on the third day of November, year two thousand.
"Meaningless! Meaningless! … Everything is meaningless!" - According to the author of the book of Ecclesiastes, everything done on earth is meaningless, nothing but vanity. But, according to the same author, "…here is the conclusion of the matter: Fear God and keep his commandments, for this is the whole duty of man."
In the sight of God, everything attained here on earth becomes meaningful if they were offered for the glory of God. Fr. Federico Dela Rosa has fulfilled the whole duty of man. He has feared God and has faithfully kept His commandments by doing everything as an act of service to God. Therefore, Fr. Dela Rosa has received God's commendation. The Lord has welcomed him into His kingdom by saying, "Well done, My good and faithful servant…" By Abigail Saria



| Back on top |