---
"Counter Strike" Strikes!

ave you heard of the newest craze in town? It's the newest personal computer game — Counter Strike. It is released and distributed by Sierra Hardware Inc. It can be described as a game of war and the player acting as the counter terrorist, or the evil counter part - the terrorist.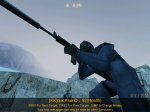 What's exciting about this game is that you can have your friends as your teammates or enemies as well. It strikes everyone, boy, girl, young or old. In the latest report, it is estimated of about 43% of boys in the Philippines are "CRAZY" of it. And take note that it is just the boys, how about the girls?
As my observation, I am very fond of seeing the male students of San Sebastian rushing to the gates right after class. Off to the nearest computer rentals center. They stay there till night or even late 1:00 in the morning without studying their lessons, not doing their assignments, much more? Starving.
Most of them do not take their snacks instead they are saving their money for the next counter attack. Some are too addict that they cut classes or some do not attend their classes anymore. What's the result? Failing grades or in the worse case, suspension.
Beware when "Counter Strike", STRIKES! By Relly Delos Santos



| Back on top |